We Officiate Muslim and Interfaith Marriages
Allah is the Arabic word for God. He is the Rabbul Aalameen (Quran1:2), the universe's causer, maintainer, and recycler. He installed the love chip in individuals as if it were a GPS implant in every human being, bringing two souls together. That is, you and your fiancée among the 7.5 billion people. Quran 30:21, (30:21), Safi Kaskas, "And among His signs is that He created spouses for you from among yourselves, so that you may find peace with them, and He has placed affection and mercy between you. In this, there are signs for people who think."
Dr. Mike Mohamed Ghouse regularly officiates the Nikah Ceremonies, and will travel within the United States when his schedule permits. As a part of his service to the community, he officiates interfaith marriages and believes that God puts love between two individuals and brings them together. When two individuals fall in love with each other, the ultimate milestone in their relationship is marriage. Mike has officiated weddings between Muslims, Hindus, Christians, Jews, Atheists, Jains, Sikhs & Buddhists. Through consultations with the couple, he customizes the proceedings and sermons in both their faith traditions if they choose to remain in their respective faiths. If one decides to become a Muslim out of the free will, the conversion ceremony will take place minutes before the wedding. Counseling is also available in handling conflicts that may arise out of different religious & cultural practices.
Ghouse has written a well-researched 5000 words chapter, "Can A Muslim Woman Marry a Non-Muslim?" in his book America Muslim Agenda, available on Kindle & Amazon. He also manages a think tank called World Muslim Congress.
Ghouse is the founder & President of the Center for Pluralism, an organization committed to building cohesive societies where every human feels secure in their faith, religion, race, ethnicity, culture, sexual orientation, and political orientation.
He is also a public speaker, thinker, author, community consultant, pluralist, activist, and newsmaker. He is deeply committed to free speech, human rights; pluralism in religion, politics, societies, and the workplace. He has dedicated his life to building a cohesive America & offers pluralistic solutions to the media and policymakers on issues of the day.
Contact info: Mike Ghouse Text (214) 325-1916
We love & know what we do!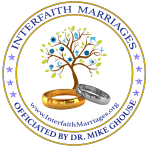 How Wedding Officiant Works
The marriage is between two individuals and the family's support and cheers are important.  I will be happy to talk with parents or guardians if they are reluctant with the marriage.  Here is the general process
The wedding will start on time and close on time.
The men and women who take the bold step to become one regardless of their origins, faiths, races, cultures, and ethnicities must be appreciated and applauded. They are setting a new standard on how-to live-in harmony despite their differences. They practice genuine pluralism, respect the otherness, and accept the God-given uniqueness of each individual.
Marriage is a union of two individuals for happiness and harmonious living. Every living organism has a built-in GPS that brings two individuals together, and it is nature (God) that puts love between two individuals.
The outline will be a step-by-step proceeding will be prepared for you for the most critical event of your life; your wedding. And it will cover from the moment you step on the Stage/ Gazebo on your wedding day to the pronouncement that you are husband and wife. This will be a custom-tailored event proceeding with option items, and together we will make changes, additions, deletions and corrections to the proceedings, and finally, you will approve it. It will be as you dreamt.
You Can Trust Us With Accurate And Sensitive Information
We Are Ready To Assist Our Clients Anytime And Every Time
God created the world in harmony and balance (Quran 55-7-11), and loves those individuals who marry and add to the harmony.
Someday we may find out what attracts a man to a woman or vice-versa, like a magnet two individuals come together to be one with each other, as if a GPS is placed between them. Religion, region, or race become secondary when two people fall in love with each other. This is what God loves, two people becoming a source of harmony and happiness to each other.